Cabo San Lucas is one of the most beautiful places in the entire world. When you take a trip here, you might be tempted to spend all your time sitting on the beach soaking up the sun and taking in the sights. However, if you really want to experience Cabo San Lucas, you should consider a charter boat through Guerita Sportfishing. Whether you want to go on a deep-sea fishing charter in Cabo San Lucas or a sunset cruise, the Güerita III is the right charter for any occasion.
Click here to see interior photos
The Güerita III is a gorgeous boat both inside and out. From the moment you climb on board the deep-sea fishing charter, you'll be amazed by just how luxurious it is. Here are some of the things you'll find: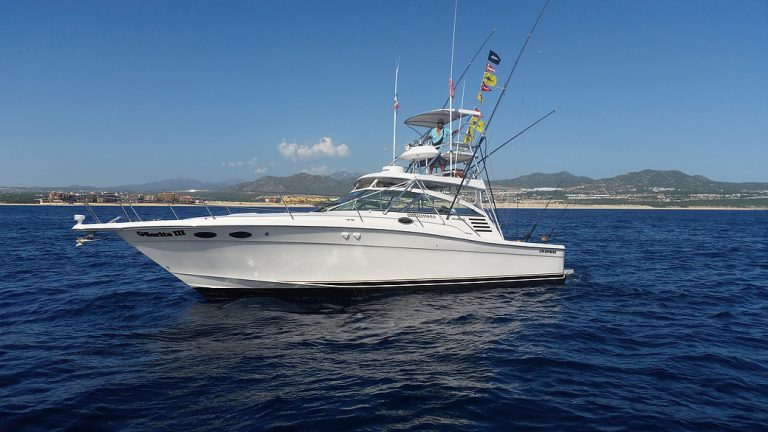 CAT 420 Diesel Powered Engines
14' wide beam
Furuno Radar
Fish Finder
GPS – 1 on fly bridge/1 in tower
Stereo
Air Conditioning
Generator 7K
Life Jackets
Refrigerator
TV
2 VHF Radios
2 Live Bait Wells
Tournament Chair
1 Extra Chair
Tuna Tubes
2 Shimano 50 TLD Reels
2 Shimano 30 TLD Reels
1 Penn International 80
2 Penn International 50
Güerita III is the perfect deep-sea fishing charter in Cabo San Lucas. However, Guerita Sportfishing also offers it up to those who want to take a sunset cruise or go on a whale watching adventure. It can seat up to eight people at a time comfortably, regardless of whether you're fishing or sightseeing.
Please visit the reserve page or email info@gueritasportfishing.com for more information and to plan your trip.