Ready to come to Cabo?  
Maybe the following video will help you decide……..
After you watch the video, take a look at some of our photos down below……..
Have you always wondered what it would be like to go big game sport fishing in Cabo San Lucas?  Since 1996 the experienced staff at Guerita Sportfishing has been taking casual and avid fishermen alike on exciting fishing adventures in the Sea of Cortez as well as the Pacific side of Los Cabos. You can experience it for yourself when you hop aboard Güerita III where you will enjoy all that a Cabo San Lucas deep sea sport fishing charter has to offer. You can fish for marlin, dorado, tuna, wahoo, sailfish and more.  And, if you're lucky, you might just walk away with a trophy fish you can take home to hang and enjoy for years to come.
In the photos below, you can see all the fun fishermen have had on Guerita Sportfishing charters.  Like them, you can reserve either a half day or full day of fishing on an eight-passenger Cabo San Lucas deep sea fishing charter.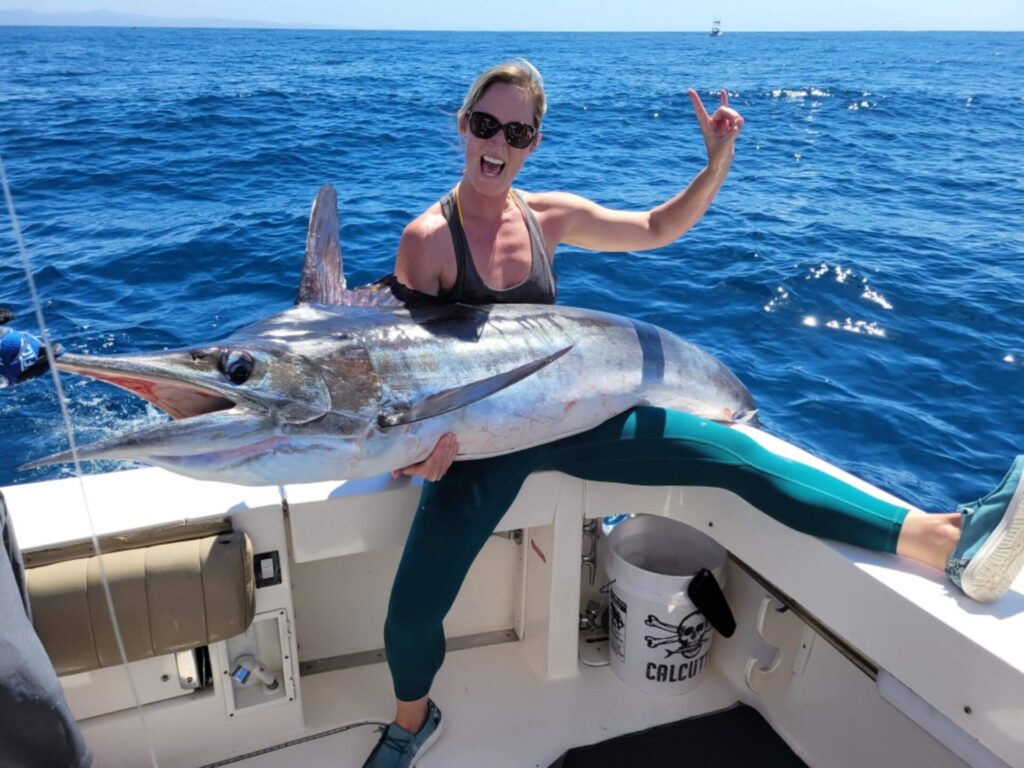 Look what this young lady caught on Guerita III.  She looks very happy.  What excitement for her.
Come on down to our little corner of paradise and get the thrill of fighting with one of these yourself.  We'll be waiting for you.
Of course, we always like to release after taking the photo.

Maybe you might hook up one of these – Mako Shark!
Don't think you would want to bring it into the boat – look at those sharp teeth!
If fishing isn't really your thing, you can reserve a different type of charter with Guerita Sportfishing.  Go on a Sight Seeing Cruise,  Whale Watching Cruise, or  a Sunset Cruise.  No matter which option you pick, you'll have an exciting time aboard our luxurious charter boat, Guerita III.
Our world famous sea lion. Pancho, died several years ago, but his relatives still come to greet the fishing boats on their way back into the harbor.  They jump onto the swim platforms looking for leftover bait.This little guy had some competition from one of the many pelicans that also greet the boats!
Please visit the reserve page or  email info@gueritasportfishing.com for more information and to plan your trip.