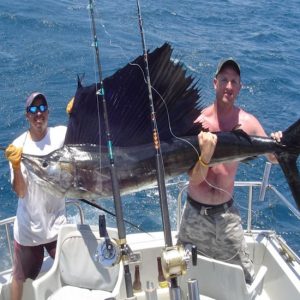 When is the best time to go fishing in Cabo San Lucas? Well, that depends on the type of fish you're hoping to catch.
Sailfish
If we consider different months and seasons of the year, certain fish are "around" and biting at certain times. For instance, if you're trying to catch Sailfish, your odds are best during the Fall season– September, October, and November. You're less likely to catch sailfish in the Winter/Spring seasons during February, March or April.
Winter Fishing Trips to Cabo San Lucas
What about the month of January? If you're wanting to catch Wahoo, Shark or Striped Marlin, January is good. One month later, in February, expect to possibly catch Striped Marlin or Shark. During March, chances are good that you'll catch Yellowtail, as well as the aforementioned Striped Marlin and Shark. The winter months offer great fishing in Cabo, and many people come here to get away from the cold, snowy winters up North!
Spring Fishing Trips to Cabo San Lucas
When Springtime rolls around, the month of April is good for catching Grouper, Snapper, and more. Then May is your time to look for and catch Amberjack, Crevalle Jack, Cabrilla, and Mackerel, among others.
Summer Fishing Trips to Cabo San Lucas
How about Summer? In the month of June, you're likely to find Snook and Rooster Fish. July and August are good for Mahi Mahi and Blue Marlin. In fact, the Mahi Mahi and Blue Marlin "season" extends all the way 'til October in most cases. Summertime is also good for Black Marlin and Dorados. Meanwhile, during September/October, you might get Sailfish, Snapper, Snook, Yellowtail or Wahoo.
No matter what time of year you visit Cabo San Lucas, one thing's for certain: for a deep sea fishing adventure, you should connect with Guerita Sportfishing.
Please visit the reserve page or email info@gueritasportfishing.com for more information and to plan your trip.